Mobility

People are always on the move. Sometimes the journey takes them just around the corner, sometimes halfway around the world. A multitude of vehicles takes us on this journey, on roads and rails, on water or in the air. In order to make the combination of these modes of transport and the switch between them as easy as possible, we need viable and effective mobility concepts - and safe means of transport. This ist he point where testing authorities come into play: The TÜV-organisations periodically inspect cars to ensure that we arrive safely at our destination, whether that is on the other side of the world or just around the corner.
Everyone who regularly takes their vehicle to a roadworthiness test is well aware of how precisely the TÜV-experts work. They do not overlook a single detail. This level of accuracy protects human lives. Every road user is at risk when vehicles with worn tires or weak brake are on the road. TÜV employees are committed to eliminate this risk as far as possible.
Mobility beyond the road
The tasks of the TÜV-organisations are by no means limited to testing cars. In studies on mobility, the TÜV Association analyses how road and rail traffic can flow as safely and sustainably in the future. The TÜV Association also concentrates the aviation sector, the safety of cyclists and pedestrians, new mobility options, such as shared mobility or automated buses and other vehicles.
Autonomous driving currently raises a large number of legal and technical questions. Here, too, the TÜV Association sees its mission in supporting legislation and solving technical challenges – for example, for new types of propulsion such as hydrogen. Above all, to support achieving ambitious environmental and climate protection targets. To ensure that we get from A to B as safely and sustainably as possible in the future.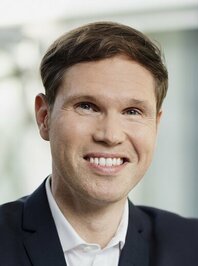 Richard Goebelt
Director of Automotive and Mobility, Member of the Management Board