Sustainability

Sustainability involves more than merely planting a new tree for every tree that is felled. Sustainable management means maintaining a liveable world for all people, a world that is ecologically compatible, socially just and economically efficient. The entrepreneurial self-conception of the TÜV organisations is shaped by its desire to protect people and the environment. They ensure that industrial plants, products and equipment function are as safe as possible, check the vehicle and plant emissions and protect water and soil from contamination, just to mention some.
But sustainability involves far more than this though. In its Agenda 2030, the United Nations (UN) defines a total of 17 Sustainable Development Goals (SDGs). Among others, these relate to climate and biodiversity protection, decent work, quality education, clean water, and sustainable consumption and production. The 17 goals are not only intended for governments worldwide, but also for science and industry – and not least for each and every one of us.
New times, new tasks
Topics such as climate protection, occupational health and safety, fair supply chains and education are also increasingly forming the focus for the TÜV Association and its members. They always have the Agenda 2030 and the 17 Sustainable Development Goals (SDGs) in sight during their work and support the European Commission's Green Deal and the associated new circular economy action plan (CEAP). With these projects, the EU sends clear signals for fostering a sustainable transformation in Europe and taking a future-oriented approach in economic and consumer policy.
The TÜV organisations are already able to support many of these sustainability goals today with their services. They help companies by testing, certifying and advising on how to make products and processes not only more efficient, but also more sustainable. This relates to future-oriented management, the sustainable use of the environment and resources, and corporate social responsibility. The corresponding certificates not only allow companies to prove their awareness of quality and ensure optimal processes, but also to demonstrate their commitment to sustainability and the SDGs. The TÜV organisations thus act as a strong partner for a sustainable future that meets the needs of people and the environment alike.
Areas in which the TÜV organisations are active
ENVIRONMENTAL STANDARDS
Many companies are already striving to align their actions to environmental aspects today – by committing to the ambitious emission reduction targets of the Paris Climate Agreement, for example. The German government's Federal Climate Change Act and the European Green Deal also provide a political framework for the consistent expansion of renewable energies, intelligent mobility concepts, committed decarbonisation of industry, sustainable agriculture and climate-neutral construction and housing. Consumers also help to protect the environment and climate through their purchasing decisions. This applies to green electricity as well as to textiles produced using environmentally-friendly processes. The TÜV organisations can ensure that the legal requirements are met and complied with. They help consumers to identify products that are climate- and environmentally-friendly and companies to demonstrate their environmental commitment.
SOCIAL STANDARDS
Labour and social standards are increasingly playing an important role in production. It is about respecting human rights, fair and safe working conditions, avoiding child labour, but also combatting corruption and bribery. In addition to increased standardisation and the associated specification of requirements to comply with, impartial confirmation of conformity with applicable laws, guidelines and standards is particularly crucial to ensure reliable compliance with human rights and environmental standards along the entire supply chain. Assessment organisations such as the TÜV organisations can play a key role here.
SUSTAINABILITY REPORTS
Public interest in sustainable business practices is growing. In order to inform stakeholders appropriately and to manage sustainability goals within their business, many companies today not only disclose financial information, but also share social and environmental information in sustainability reports. These reports are an important instrument for the transparent presentation of a company's environmental awareness, future orientation and social commitment. The TÜV organisations help companies to prepare their sustainability reports and check the completeness, balance and accuracy of information.
The TÜV organisations themselves are also working hard to expand and systematise their sustainability commitment and to set themselves concrete goals. This applies to the services, which will in future also be assessed according to their impact on the environment. Their carbon footprint – from business trips, for example – should also consistently be reduced. The TÜV Association and its members are taking responsibility – for people, society and the environment.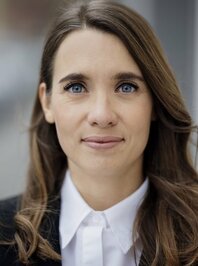 Juliane Petrich
Head of Politics and Sustainability and Executive Officer