Sustainability
Supply chains

BECAUSE RESPONSIBILITY DOES NOT END AT NATIONAL BORDERS
People like to have a clear conscience when they make purchases. The expectations made of companies to live up to their responsibility to protect people and the environment are accordingly high. Taking the social and ecological standards along the entire value chain into account should have been a matter of course for companies for a long time now. Supply chain legislation could make this mandatory. The TÜV Association makes concrete proposals for implementation in its position paper on "Enhancing traceability along supply chains".
Not least the coronavirus pandemic illustrates the need to make supply relationships responsible and resilient. Companies are themselves also increasingly speaking out in favour of mandatory legislation. In doing so, they demonstrate their willingness to assume greater responsibility for the conditions under which their goods and commodities are produced. Some European countries (France and the Netherlands, for instance) have already implemented mandatory measures. Germany is also working on a law on corporate due diligence in supply chains.
European due diligence legislation should be created to cater to the requirement for fair competition conditions within Europe and because supply chains do not end at national borders. Binding requirements and standards as well as independent verification mechanisms are needed to enable the full potential of such supply chain legislation to be exploited.
Social and environmental standards must be taken into account at every link along the entire supply chain. We are only able to ensure this if companies are assessed consistently.
THE TÜV ASSOCIATION HAS FORMULATED FOUR KEY RECOMMENDATIONS FOR ACTION FOR SUPPLY CHAIN LEGISLATION:
Introduce a European legal framework for supply chains: only if all participants in the European Single Market work together can effective human rights and environmental protection be achieved. Without a European solution, companies based in Germany risk being at a competitive disadvantage on the European and global markets.
Develop standards: the legislators are called upon to define mandatory specifications and requirements for compliance with social and environmental criteria along the entire supply chain. The clearer the requirements, the more reliable the assessment of compliance can be – and thus also the organisation of tracking and tracing along the supply chain.
Establish assessment by independent third parties: it must be checked whether standards are being complied with – at all links along the supply chain. Legislators are called upon to establish mandatory independent assessment along the entire supply chain. In this context, it is also necessary to define minimum social and environmental standards for conformity assessments, and to set uniform quality standards for certification and audit reports.
Expand market surveillance: global supply chains are today more complex than ever before. Hence the EU needs effective market surveillance by national authorities. While Regulation (EU) 2019/1020 on market surveillance is a step in the right direction, market surveillance should be expanded through requirements that apply all across Europe, the frequency of controls increased and the number of random samples standardised across the EU.
Do you have any questions?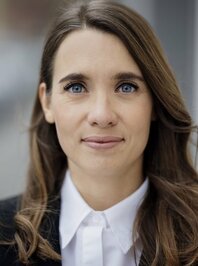 Juliane Petrich
Head of Politics and Sustainability and Executive Officer