Industrial plants

Industrialisation is the history of machines becoming larger and larger and of plants and factories growing with them. In the early days, it was obvious how important safety was: fire burst out of the machines, molten iron paved its way, and thick clouds of smoke spread through the factories. Although dangers may be less visible nowadays, they are just as prevalent. Industrial accidents still cost lives. It is the TÜV experts' task to reduce the number of such accidents – by making machines and industrial plants as safe as possible.
TÜV experts have been ensuring plant safety for more than 150 years. While the initial focus was on steam boilers, today the scope is much broader. The safe and reliable operation of components, devices, machines and industrial plants plays an increasingly important role in our high-tech world. Nonetheless, the core task of the members of the TÜV Association remains the same: protecting people and the environment by implementing and controlling high standards of safety.
PROTECTING PEOPLE AND THE ENVIRONMENT
The TÜV experts oversee a large number of different plants, each of which is subject to a wide range of guidelines and regulations. The quality requirements are often set out in European directives. Safety measures are determined based on risk assessments and any defects are documented in test reports. Steam and pressure technology are part of the repertoire, just as they were in the 19th century. They have been joined by electrical engineering and building technology, elevators and conveyor systems, pipelines and energy power plants using biogas, nuclear or wind.
Plant safety standards protect not only humans but also the environment. Nowadays, there are high standards that determine which emissions are permitted and which technical and organisational requirements industrial plants need to comply with in order to protect the environment. This is why the TÜV companies consistently test whether the plants function within the permitted framework.
THE NEXT CHALLENGE: DIGITALISATION
Rules and regulations for high-tech machines and industrial plants are becoming increasingly more complex. This is mainly due to digitalisation, which automates many processes in manufacturing and beyond. Protecting this "Internet of Things" from unauthorized access is one of the tasks of the TÜV-organisations. This requires continuous communication between experts and constant examination and evolvement of rules and regulations. The TÜV Association contributes its knowledge and expertise to this productive exchange.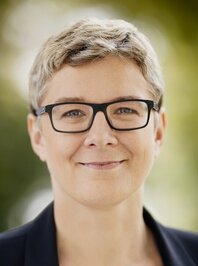 Claudia Tautorus
Director of Industry and Plant Engineering and Member of the Managing Board