Mobility
Environment

We only have this one world, so we must take good care of it. It is the responsibility of each and every one of us to cause as little damage and pollution to the environment as possible. Hence the members of the TÜV Association check that the prescribed emissions limits from motor vehicles are complied with. At the same time, the TÜV Association advocates strict limits and consistent control. Because the fewer pollutants that burden our environment, the better. Both for us and future generations.
In parallel, the TÜV Association and its members are committed to furthering environmentally-friendly forms of mobility. The TÜV Association sees e-mobility as a sensible alternative to vehicles powered by combustion engine and at the same time pursues the development of alternative drive systems such as hydrogen, autogas or biodiesel.
In the opinion of the TÜV Association, intelligent, networked transport systems ensure greater road safety, an improved carbon footprint for all traffic and ultimately the transformation of drivers into passengers in autonomous mobility.
Find out more about our position on alternative drive systems.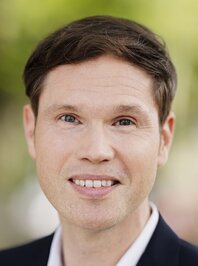 Richard Goebelt
Director of Automotive and Mobility, Member of the Management Board