Mobility
New mobility

Car-friendly cities are not people-friendly cities. All urban and transport planners have meanwhile arrived at this realisation. A rethink is therefore necessary. How do we want to move around cities in the future? What alternatives are there to private vehicles and to buses and trains?
One thing is clear: the more inconvenient the concepts for new mobility are, the more likely they are to fail. The TÜV Association is involved in this discussion on two levels: firstly, we develop our own mobility concepts, willingly in collaboration with other "think tanks", and take a stand on current concepts and regulations relating to mobility. Secondly, we question the benefits and review the safety of modes of transport and transport concepts that could already play an important role in transport in the near future. This is the case for e-scooters and people movers (automated public transport) as well as for shared mobility, for instance.
While it is currently still essential to own a car in rural areas, a rethink is unavoidable in urban areas. There will be greater diversity in the future – a future that the TÜV Association is helping to shape.
Here you can find our ideas and demands for autonomous mobility.
Do you have any questions?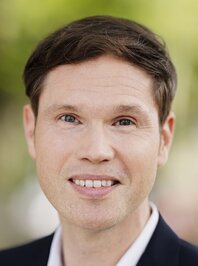 Richard Goebelt
Director of Automotive and Mobility, Member of the Management Board