Products

Many consumers will be familiar with the TÜV quality seal for household goods and electrical appliances. Members of the TÜV Association do not only assess toasters and fridges though, but in fact almost anything that can be held, moves or is permanently installed. From toys, vehicles and lifts through medical devices to steam boilers and even power stations and chemical plants.
The high risk potential that certain products present means that European legislation stipulates mandatory tests for some of these products. A manufacturer may only place a pacemaker on the market once it has been tested and found to be safe by an independent assessment body such as the TÜV, for example. However, most tests are voluntary and only carried out at the request of the manufacturer or trader. This is the case for electrical appliances and toys, for instance.
Digitalisation makes a redefinition of the product safety term necessary
With growing digitalisation, the concept of product safety is becoming broader. Today, it is not enough for a product to be physically safe and not cause electric shocks, for example. Rather, it must also be able to withstand cyberattacks. This applies for networked vehicles and industrial plants as much as it does for smart homes. Products and applications that use artificial intelligence also present new challenges. Independent testing can ensure added safety here. The TÜV Association therefore calls for IT security to be more firmly anchored in national and European legislation.
In addition to the digital functionality of products, the focus is increasingly being drawn to climate protection and sustainability. A product's entire life cycle – from its production to its disposal or recycling – must be taken into account. For many consumers, compliance with minimum ecological and ethical standards is an important purchase criterion. Through on-site audits or laboratory tests, independent assessment organisations are able to determine whether companies are meeting their due diligence obligations. A binding legal framework is needed for this though, which is why the TÜV Association advocates a European due diligence legislation.
Recognised assessment bodies
In order to ensure the quality infrastructure, assessment organisations must consistently meet the highest competence and independence requirements to be recognised. The norms and standards that the assessment organisations must themselves comply with during product testing and certification constitute one further important component of the quality infrastructure. Whether products can be held, move or are permanently installed, the TÜV Association is committed to ensuring that they are all as safe and secure as possible.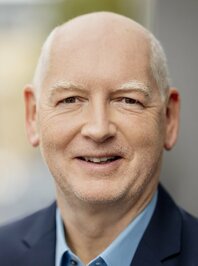 Rainer Gronau
Director of Politics, Law, Europe and Deputy Managing Director