Mobility
Road

While the tasks of the TÜV Association and its member organisations are diverse, the periodical technical inspection continues to be seen as their hallmark: whether a car or motorbike, lorry or bus, motorhome or trailer, all must undergo regular technical inspections.
Since 1961, the TÜV sticker on licence plates has indicated that a vehicle complies with the legal requirements and is technically safe at the time of inspection. The requirements for the periodical technical inspection continued to evolve as the vehicle technology does. The TÜV Association advocates the introduction of new procedures and criteria for testing modern vehicles, particularly in light of digitalisation.
The TÜV stands for more than just cars
The volume of traffic on German roads has increased by about one third alone since 1991. The inevitable consequences are more traffic jams and an increased environmental impact. It is for this reason that the TÜV Association advocates mobility concepts that provide new options. To reduce the burden on our environment and ensure that pedestrians and cyclists can travel in a safe and relaxed manner, especially in urban areas.
Find out more about
Periodical technical inspections
Do you have any questions?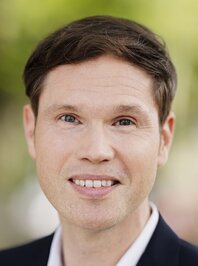 Richard Goebelt
Director of Automotive and Mobility, Member of the Management Board