Environment
Alternative drive systems

The dominance of fossil fuels in mobility will end in the foreseeable future. The vehicles of tomorrow will be powered by a mix of different technologies. In some cases, technical challenges persist for these alternative drive systems that still need to be resolved. The TÜV Association is working closely with its members of the e-mobility working group to find solutions for these together.
A clear yes to e-mobility and hydrogen
Electrification of the powertrain is not a bridging technology that will soon be replaced. It shows the right way to a future with cleaner, more liveable inner cities and intelligent, demand-oriented mobility offers for rural areas.
At the same time, hydrogen plays a central role in further decarbonisation. For certain areas, hydrogen is even the only option to completely reduce climate-damaging gases. This applies both for long-haul air travel and the substitution of carbon-intensive processes in steel production or the chemical industry.
Fuel cell vehicles constitute a sensible complement to battery-powered electric vehicles, especially for buses and commercial vehicles. In parallel, national infrastructure must be built to transport hydrogen to the filling stations with the help of pipelines, tankers and rail tank wagons.
Still work to be done
The diversification of drive technologies is associated with a great many regulatory and technical questions that need to be answered. The TÜV Association and its members are taking up this challenge and contributing their expertise. As we all know, while people are open to innovation, they want to be able to trust that the innovations are safe. Indeed, ensuring safety is the primary task of the TÜV Association and its members. System safety creates lasting trust among the population. Only when alternative powertrains are safe will we at some point achieve our goal of making these as commonplace as the conventional combustion engine is today.
Do you have any questions?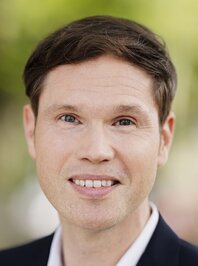 Richard Goebelt
Director of Automotive and Mobility, Member of the Management Board